We are situated in the neighborhood of Les Corts (Barcelona),
close to the "CORTE INGLES DIAGONAL" and Barça's Football Camp.
GENERAL TIMETABLE
Monday, Tuesday, Thursday, Friday
(Wednesday NO)
9:30-13:15 and 15:00-20:00.
DOCTORS TIMETABLE
Dr.Loïk de Tienda
Monday and Thursday 9:30-13:15 and 15:00-20:00
Dra.Roser de Tienda
Tuesday and Friday 9:30-14:20
First and 15:00-20:00
The first Tuesday of each month also from 3pm to 8pm (15:00-20:00)
Dra.Bianca Cáceres
Monday and Thursday 9:30-13:15
Tuesday and Friday 14:40-20:00
Dr.Alessio Sudati
Tuesday 9:30-14:20
Tuesday and Thursday 15:00-20:00


* On Wednesday the center is Closed open in the afternoon
email: recepcion@quiropracticalolivera.com
WhatsApp: 678 700 754
Phones: +34 678 700 754
C / Taquígraf Martí, 6, Local 1
08028 Barcelona
<L3>
Buses: 59/70/75 / V3 / L12
Parking: PARKING SABA – Carles III
Click on the map to go to Google Maps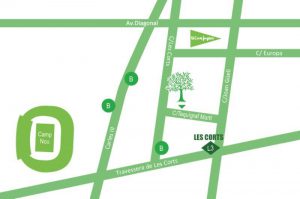 If you need to find a chiropractor in your city, you can do so at this link, which is the official page of the AEQ (Spanish Chiropractic Association). If you have any questions write to us and we will help you in your search.